20th Anniversary Gala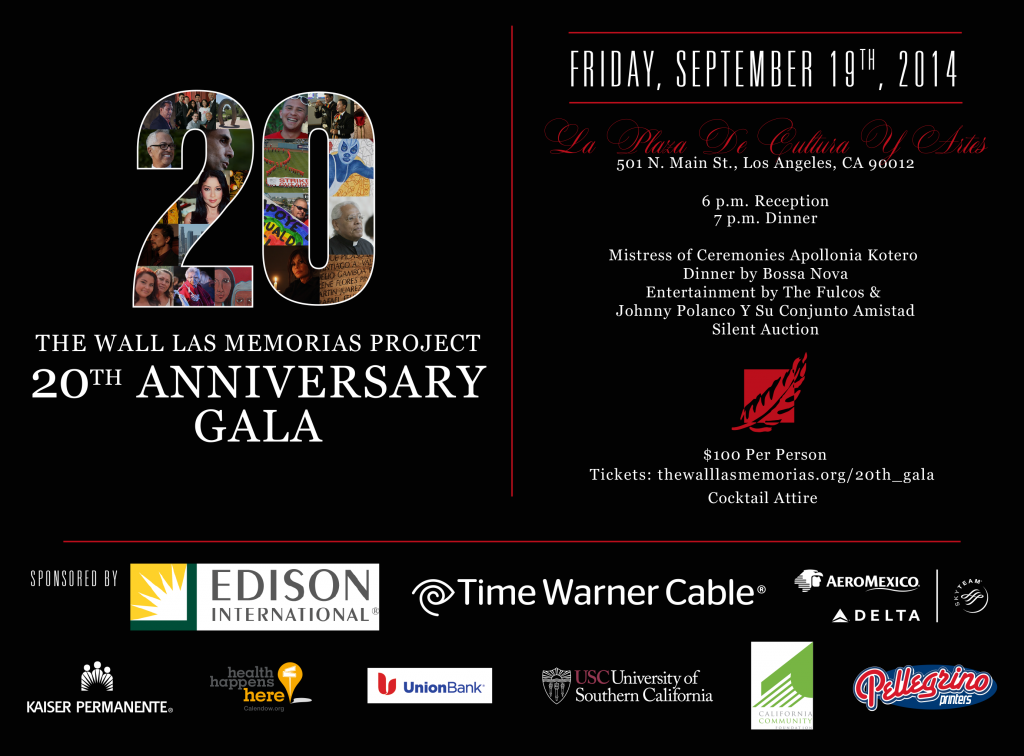 "Almost twenty years ago, I had a dream to create a monument to those who had died from AIDS. The monument was to serve as a catalyst for social change that would lead to the discussion of cultural denial, stigma and shame among those impacted by HIV/AIDS. The movement that followed was a direct response to the deaths of countless men silenced by the stigma created within their communities."  -- Richard L. Zaldivar, Founder & Executive Director
In celebration of twenty years of service to the community, The Wall-Las Memorias will be hosting its 20th Anniversary Gala on Friday, September 19th, 2014 at La Plaza de Cultura y Artes in Downtown Los Angeles. The event will feature an evening of exquisite food, live musical entertainment from legendary and local musicians, art installations, silent auction, special guests, and a presentation of the history and future of the organization. Cocktail/business attire recommended. 
The evening will include: 
Cocktail Hour Reception Featuring Appetizers & Specialty Drinks by Ty London Events LCC (Cash Bar) 
Silent Auction & Artwork Installations 
Introduction & Welcome by Celebrity Co-Hosts: Actress/Singer Apollonia Kotero & Voice-Over Actor/Gay Rights Activist Ben Patrick Johnson
Dinner Catered by Local L.A. Brazilian Restaurant Bossa Nova 
Live Musical Performance by The Fulcos
Commencement of Program 
Special announcement from Executive Director, Richard L. Zaldivar 
Dessert bar 
Live Musical Entertainment & Performance by Legendary Salsa King Johnny Polanco y Su Conjunto Amistad 
Silent Auction Items Include: 
Artisan Bowl by Elena Snyder Palacio | Cancun Vacation (5-day, 4 night 2 Adult Stay) | Makeover & Photoshoot (Celebrity Makeup Artist Andrew Velazquez) | Petal Spin Membership (1 Month Unlimited) | Gronk Art Piece | Hector Silva Art Piece | 4-Books by Toni D. Newman (w/4 Equality Bracelets) | American Apparel Gift Card ($500) | Wine Tasting/Tour (Wilson Creek Winery, Temecula) | Delta Airlines (Travel Packages) | Blow Out (Styling Lounge) | Yolanda Gonzalez Art Piece | Kathy Gallegos Art Piece | Brooks Brothers' Blazer | Total Wine & More (Tour/Tasting) | Caribbean Paradise Packages (5-7 Nights, 2-3 Rooms) | Bed & Breakfast (Mi Besito, San Miguel de Allende, Mexico) | Hugo Croswaithe Art Piece | A Bed of Roses Gift Card (Flower Arrangement Class) | Bossa Nova Dinner Package | Grammy Museum (4 Tickets)
For the full list of Silent Auction Items, click here. 
Funds raised through the 20th Anniversary Gala will help fund The Wall-Las Memorias Project and future efforts to provide health and wellness programs and services to the local Latino community of Los Angeles.
When
September 19, 2014 at 6:00pm - 11:59pm
Contact
Erika Reyes · · (323) 257-1056 Ext. 29
103 RSVPS

---
David Anthonie

rsvped

2014-03-24 13:09:12 -0700