9th Annual Los Angeles Faith in Action Conference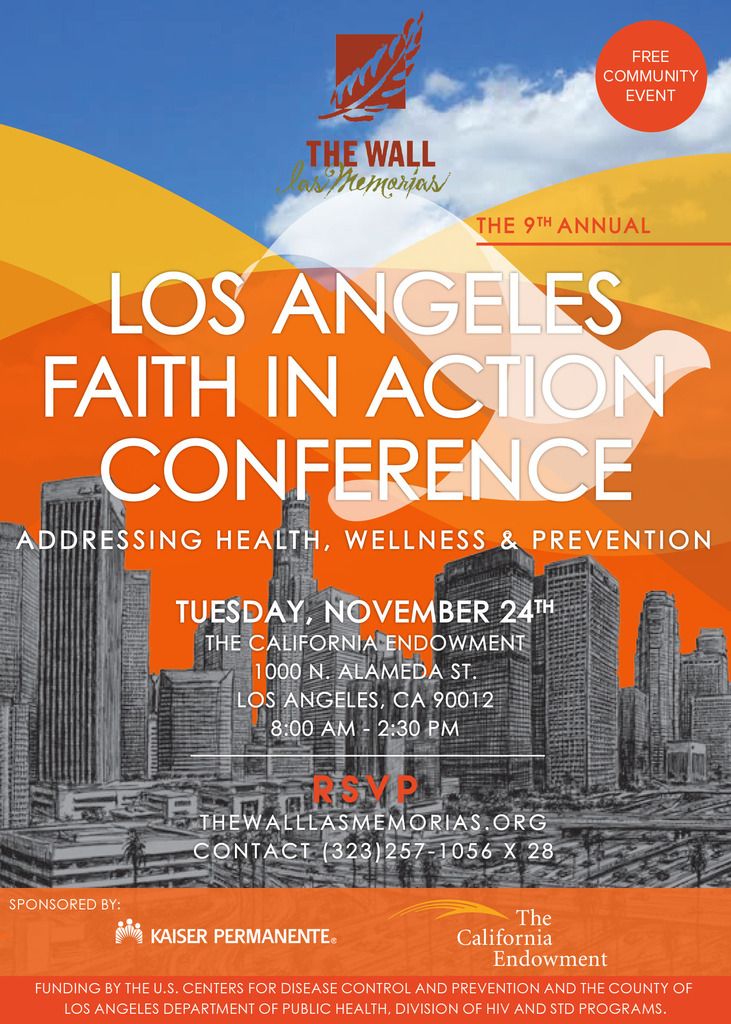 Join us for our 9th Annual Los Angeles Faith in Action Conference on Tuesday, November 24th at The California Endowment. 
The annual conference is the only one of its kind bringing together pastors, ministry leaders and congregants of faith communities. The conference provides plenary speakers and workshops on health epidemics, human sexuality and LGBT issues—using language that faith community understands.
Speakers from faith institutions, academia and public health are invited to engage in and discuss recent trends that explore the obstacles faced by the Latino and other under-served communities. The Wall-Las Memorias Project has created this conference in this critical time of need for the purpose of uplifting spirits, nourishing the soul, and educating from the heart.
This year's conference includes discussions on:
New HIV Prevention Methods, PrEP & PEP, A Bio-Medical Approach to Reducing the Spread of HIV in the Latino Community
Hepatitis C & Co-Infections
Transgender Experience: Barriers, Strengths, & Wellness
Power of Prayer & Mercy, Healing Communities through Ministry
With interactive workshops on:
HIV/AIDS Ministries
Mental Health & Homelessness
Dynamics of Sexuality in Relationships 
and more
This is a FREE community event with complimentary breakfast and lunch. Interpretation services will also be provided. Seating is limited, registration prior to the event is highly recommended.
Sponsored by: 

When
November 24, 2015 at 8:00am - 2:30pm
Contact
Enrique Topete · · 323.257.1506 ext. 24
203 RSVPS











































---
Md Taslim Mia

rsvped

2018-10-03 10:01:37 -0700

Rosa Madrigal

rsvped

2017-09-22 10:52:31 -0700

Billie Dawn Greenblatt

rsvped

2016-10-03 09:15:23 -0700

Gerardo Cruz

rsvped

2015-11-24 05:09:46 -0800

Nkechi Michel

rsvped

2015-11-23 14:26:54 -0800

Jacqueline Baltran

rsvped

2015-11-23 14:06:59 -0800

Thomas Carey

rsvped

2015-11-21 05:07:14 -0800

William Lucas

rsvped

2015-11-20 13:40:50 -0800

Abel Salas

rsvped

2015-11-19 21:30:43 -0800

Julia Bogany

rsvped

2015-11-19 12:10:47 -0800