Todos Para La Salud: Mental Health Career Conference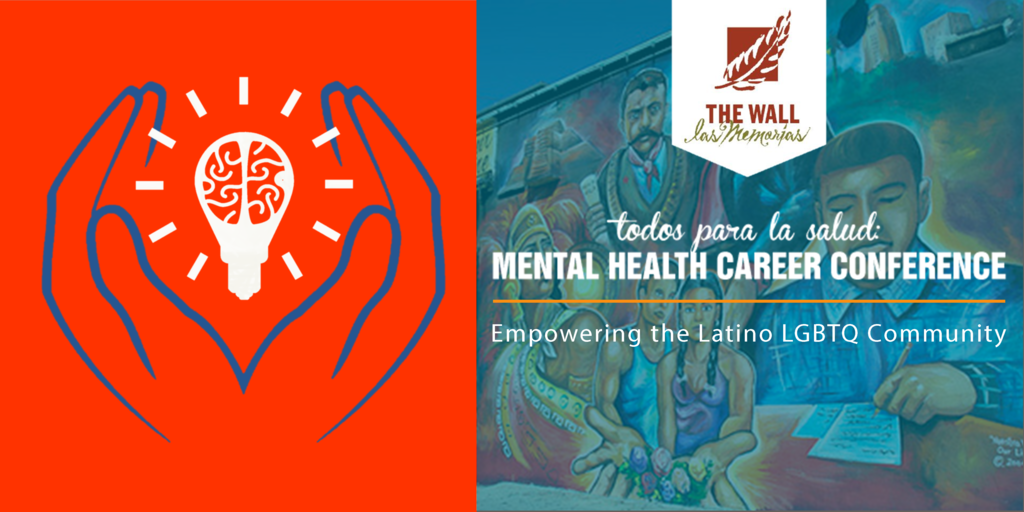 Join us for our Todos Para La Salud: Mental Health Career Conference on Saturday, April 23rd from 9:00 am to 1:30 pm at USC-Mark Taper Hall of Humanities in Los Angeles. 
This unique innovative conference is the only one of its kind bringing together LGBTQ undergraduate, graduate and local community college students to learn about different pathways to careers in mental health. The conference provides plenary speakers and workshops on field options, academic and professional guidance, financial aid and local mental health resources, and much much more!  
Speakers from institutions, academia and public health are invited to engage in and discuss the obstacles faced by the Latino LGBTQ community in achieving mental health careers. The Wall-Las Memorias Project has created this conference in this critical time of need for the purpose of empowering, encouraging, and supporting the next generation of leaders of the mental health professional field. 
The conference will include:
Breakfast Mixer, Enjoy Music & Mingle with Fellow Attendees (Free Continental Breakfast)
Todos Para La Salud Panel, Experiences from Consumer, Medical Professional, & Community Activist
Field Options Breakout Session, Professionals from Different Mental Health Fields will Host Students for Q&A's
Networking Lunch, Interact Face-to-Face w/Health Care Professionals, Admissions Personnel, Financial Aid Representatives, & Local Mental Health Resources
Barriers Panel, Financial Aid, Standardized Testing, & Resources for Undocumented Young Professionals 
Plus keynotes by:
Supervisor Hilda Solis, County of Los Angeles Supervisor (District 1) & former U.S. Secretary of Labor  
Sergio Gascon, University of Southern California
Richard Zaldivar, Executive Director of The Wall Las Memorias Project
and special guest
Including resources from: 
UCLA Labor Center
USC Keck School of Medicine 
Alma Family Services
Cal State L.A., S.U.R.G.E.
Pacific Oaks College
Alliant University
Los Angeles County Department of Mental Health
Didi Hirsch, Suicide Prevention Services
and more! 
This is a FREE community event with COMPLIMENTARY BREAKFAST & LUNCH. Interpretation services will also be provided. Seating is limited, registration prior to the event is highly recommended.
Sponsored by: 


When
April 23, 2016 at 9:00am - 1:30pm
Contact
Andres Magaña · · (323) 257-1056 Ext. 28
175 RSVPS














































---
Catherine Pérez

rsvped

2016-04-22 21:03:16 -0700

Gabriela Sanchez

rsvped

2016-04-22 09:27:15 -0700

Catherine Perez

rsvped

2016-04-21 22:36:52 -0700

David Solorio

rsvped

2016-04-21 21:03:29 -0700

Guadalupe Macias

rsvped

2016-04-21 10:54:24 -0700

Hector Manuel Ramirez

rsvped

2016-04-20 21:04:25 -0700

Lizeth Avila

rsvped

2016-04-20 15:28:48 -0700

Rosie Mancilla

posted about this on

Facebook

2016-04-20 12:35:22 -0700

Please RSVP: Todos Para La Salud: Mental Health Career Conference

Rosie Mancilla

rsvped

2016-04-20 12:24:35 -0700

Rebeca Jimenez

rsvped

2016-04-18 21:03:23 -0700

Rebeca Jimenez

rsvped

2016-04-18 18:59:25 -0700

Tania Zavala

rsvped

2016-04-18 11:13:14 -0700

Brenda Perez

rsvped

2016-04-15 19:52:49 -0700

cynthia Gomez

rsvped

2016-04-15 13:44:12 -0700