Potluck & Movie Mixer: Pedro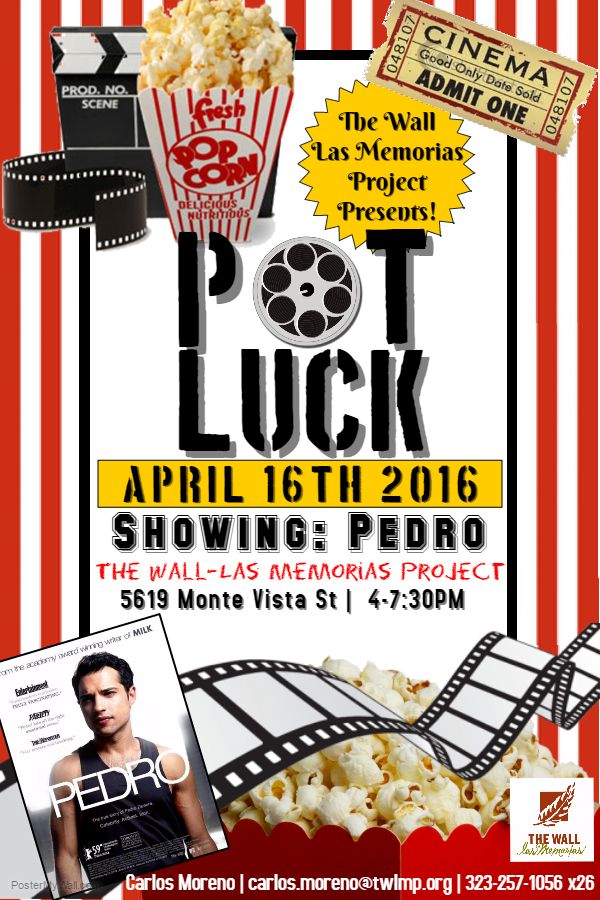 The Wall Las Memorias Project and the Wednesday Poz Group will be having its first quarter Potluck & Movie Mixer on April 16th, 2016, showing "Pedro". Bring your favorite dish to share, but it is not required! After the film, we will have a brief discussion about the movie's events, and how they compare to today and our experiences. This is for the Poz group, so just keep in mind the rules of a confidential space.
4:00 - 5:00 P.M. Arriving, Eating and Mingling, getting to know other group members
5:00 - 7:00 P.M. "Pedro" Movie Screening 
7:00 - 7:30 P.M. Movie Discussion
"Pedro is an American film about the openly gay, Cuban-American AIDS educator and television personality, Pedro Zamora, who became famous as a cast member on MTV's reality television series, The Real World: San Francisco."
Watch the trailer here: https://www.youtube.com/watch?v=Dk2IGaaPy08
>> We urge all folks interested in attending this event for the Poz community to register below or email Carlos Moreno directly at [email protected]. Your confirmation WILL NOT be shown/publicized on this webpage. 
When
April 16, 2016 at 4:00pm - 7:30pm
Contact
Carlos Moreno · · (323) 257-1056 Ext. 26
---