¡Salud A La Salud! Leadership Circle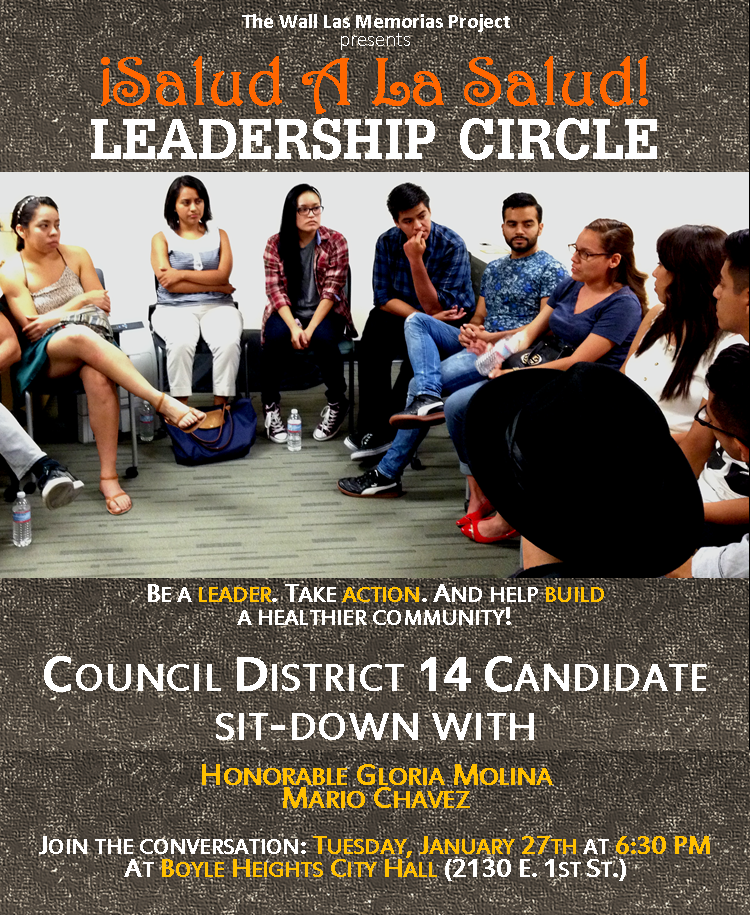 As part of the ¡Salud A La Salud! Celebrate Your Health campaign in Boyle Heights, The Wall Las Memorias has established the ¡Salud A La Salud! Leadership Circle to further advocate for mental health services and other health disparities in the Latino and LGBTQ community.
Members of the Leadership Circle will come together for the first of two "Council District 14 Candidate Sit-Down" with candidates Honorable Gloria Molina and Mario Chavez. Join us as Boyle Heights LGBTQ youth and allies discuss the future of their community with hopeful representatives of the 14th district. Be part of the movement-- be a LEADER, take ACTION, and help BUILD a healthier community!
For more information, contact Aldo Macias at (323) 257-1056 Ext. 26 or [email protected]
When
January 27, 2015 at 6:30pm - 8:30pm
Where
Boyle Heights City Hall
2130 E 1st St
Community Room North
Boyle Heights, CA 90033
United States
Google map and directions
Contact
Aldo Macias · · (323) 257-1056 Ext. 26
50 RSVPS



















---
Sorry, this event is sold out.
Zizi Bandera

rsvped +2

2015-01-27 13:48:09 -0800

Katy Miranda

rsvped +1

2015-01-26 22:25:12 -0800

Luis Ojeda

rsvped +2

2015-01-26 13:04:43 -0800

Andres Magana

rsvped

2015-01-21 11:40:31 -0800