14th Annual Strike Out AIDS
OR CALL (323) 257-1056 X.29 & get processing fees waived!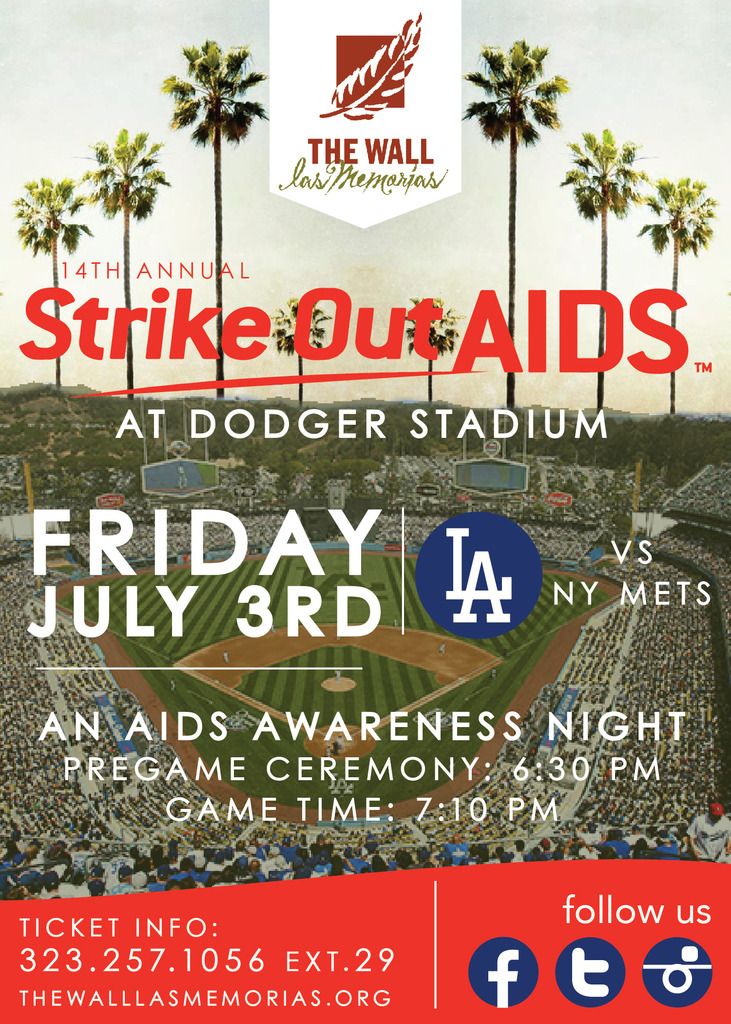 The Wall Las Memorias Project and the Los Angeles Dodgers invites YOU to join in on the festivities at the 14th Annual Strike Out AIDS -- our annual AIDS awareness event at Dodger Stadium.
Created by the organization in 2000, Strike Out AIDS continues to be one of the largest HIV/AIDS awareness events in California with over 55,000 baseball fans and supporters in attendance. Be part of this year's event as the LA Dodgers take on the New York Mets and help us bring awareness to the epidemic. Together we can Strike Out AIDS! 
This year's program will include a night of baseball fun! Enjoy...
Pre-game ceremony 
Home plate introductions
First pitch by special guest
HIV/Hep-C resource booth
Formation of our human AIDS Ribbon on the field*
Dodger Friday fireworks! 
(*) For your chance to experience Strike Out AIDS on another level, literally, contact TWLMP staff at [email protected] and take part in the formation of the human AIDS Ribbon on the field during the pre-game ceremony! All ticket holders are welcomed to be part of this Strike Out AIDS tradition & will be receiving a FREE Strike Out AIDS t-shirt! 
 >>>>PURCHASE YOUR TICKETS, click here! 
OR CALL (323) 257-1056 X.29 & get processing fees waived
When
July 03, 2015 at 6:30pm - 10:30pm
Contact
David Flores · · (323) 257-1056 Ext. 32