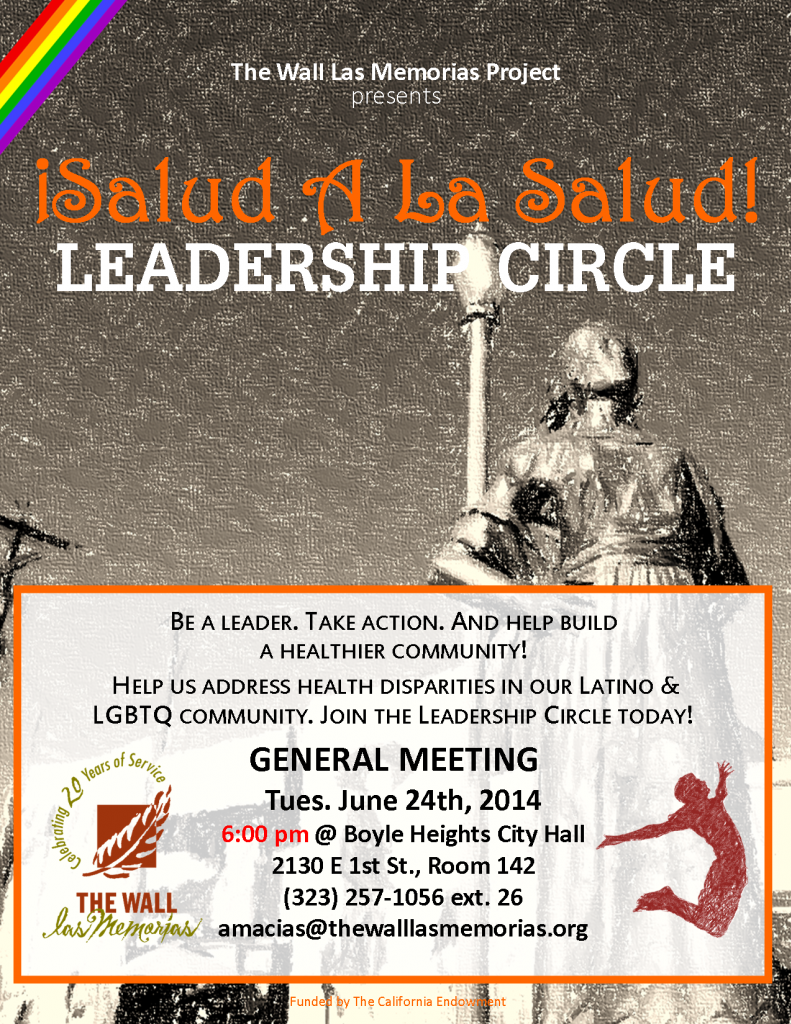 As part of the ¡Salud A La Salud! Celebrate Your Health campaign in Boyle Heights, The Wall Las Memorias has established the ¡Salud A La Salud! Leadership Circle to further advocate for mental health services and other health disparities in the Latino and LGBTQ community.
Members of the Leadership Circle are composed of LGBTQ individuals and allies that meet monthly to provide residents with the tools in community mobilization, recruitment, and creation of work plans to advocate for quality mental health programs. Members will also meet quarterly with the Los Angeles County Department of Mental Health (LACDMH) and with the Substance Abuse Prevention and Control to address the inequalities of LGBTQ health services in our communities. Be part of the movement-- be a LEADER, take ACTION, and help BUILD a healthier community!
For more information, contact Aldo Macias at (323) 257-1056 Ext. 26 or amacias@thewalllasmemorias.org
WHEN
June 24, 2014 at 6pm - 7pm
CONTACT
Aldo Macias · · (323) 257-1056 Ext. 26
16 RSVPS
---
Jeff Brewer
rsvped
2014-06-24 17:14:29 -0700
Iliana Garcia
rsvped
2014-06-20 16:19:06 -0700
Diego Sepulveda
rsvped
2014-06-20 16:18:09 -0700
Jessica Salgado
rsvped
2014-06-20 16:17:44 -0700
Britany G.
rsvped
2014-06-20 16:17:23 -0700
Joe Huerta
rsvped
2014-06-20 16:15:43 -0700
Yessica Avila
rsvped
2014-06-20 16:15:21 -0700
Omar Pichardo
rsvped
2014-06-20 16:14:43 -0700
Rolando Rodriguez
rsvped
2014-06-20 16:13:47 -0700
Rene Ayala
rsvped
2014-06-20 16:13:12 -0700
Jessica Garcia
rsvped
2014-06-20 16:12:55 -0700
Steven Urrutia
rsvped
2014-06-20 16:12:20 -0700
Andres Magana
rsvped
2014-06-18 13:53:48 -0700
Darwin Rodriguez
rsvped
2014-06-18 13:47:05 -0700
Aldo Macias Arellano
rsvped
2014-06-18 13:40:44 -0700
Viridiana chabolla
rsvped
2014-06-18 13:18:03 -0700