PrEP & PEP: New Prevention Tools for HIV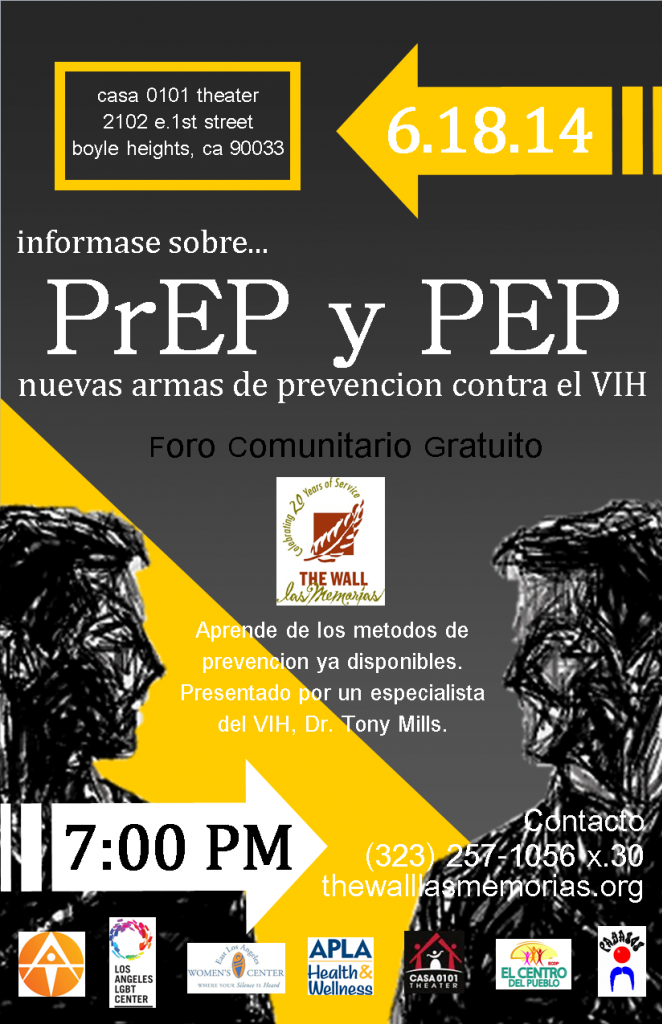 A new wave of HIV prevention is here! Pre-Exposure Prophylaxis (PrEP) and Post Exposure Prophylaxis (PEP) are new HIV medications that have shown effective HIV prevention. Unfortunately, not enough people in our communities know about these life changing medications. 
The Wall Las Memorias, along with our community partners listed above, will be hosting a free community forum on PrEP and PEP to inform our communities about these medications and how to access them. The forum will take place on Wednesday, June 18th at 7 PM at Casa 0101 Theater, located at 2102 E. 1st Street in Boyle Heights. 
Casa 0101 Theater is located just 3 blocks west of the Soto St. Metro Gold Line Station. Parking is available in the surrounding streets. Please be aware of parking regulations when using street parking.   
Due to limited space, we ask that all community members RSVP and confirm their attendance. 
For more information, contact Mr. Edgar Cervantes at ec[email protected] or call (323) 257-1056 Ext. 30. 
When
June 18, 2014 at 7:00pm - 9pm
Contact
Edgar Cervantes · · (323) 257-1056 Ext. 30
---
Andres Magana

rsvped

2014-06-05 15:20:06 -0700

Felipe Infante

rsvped

2014-06-05 15:19:16 -0700